Browsing Category: "Uncategorized"
There's no doubt you've fanned through millions, yes millions of interior decorating magazines, home decor magazines and viewed a few thousand of online websites getting ideas for your homestead lair. Well, perhaps that's an exaggeration. Things are either out of your budget, or may be you've had to resort to the best you can do: word-of-mouth recommendations from family, friends or co-workers.
Online Renovation Portals
However, when the proverbial rubber meets the road, you're left on first base trying to find the perfect match in expert craftsmen, renovation ideas and budget-friendly alternatives. You can be put at ease now by using online directories of remodeling experts such as Renovation Experts.
Not only will they host several hundred restoration experts on their portal page, but you'll have them categorized according to whatever you need: electrician, masonry, cabinetry craftsmen or roofers.
In addition, you'll find posted entries that may give you the best prices and quality material choices such as in bathroom vanities or even a rain barrel diverter for those who are environmentally conscious.
Archived Articles About Ideas You've Been Thinking About
Fine, quality and information-driven articles will help start you on your way to that remodel or renovating project that you've wanted for so many months. This includes tips of advice on what to do before you get into a contract negotiated mess or come up short with the material quality you've expected.
[Photo courtesy of Unsplash/pixabay.com]
Sometimes, it's not the fault of the contractor, but many times the fault may rest on a misunderstanding between the homeowner and the contractor both. So, don't up short at any level. Check with your online portal for the best selection in contractors, prices and materials used.
How Online Portals Work
Although not all renovation portals work the same way, here's an idea of how it's done at Renovation Experts. By filling out an easy online contact form, you'll be sent several contractor emails, sometimes within minutes, from various contractors all asking you to call them so that you can better explain what you need and have in mind.
Once mutually agreed, they'll ask to come out to your home or site to actually view the project and to give you an honest evaluation–before you consent in writing to begin on any work.
That being said, your best bet is to simply visit one of the hundreds of construction, remodel and renovation directories, and check around to see who or what you prefer. You have nothing to lose except a little time–and that's well worth it in getting that dream job you've always wanted.
If you are tired of seeing the same old accessories in your bathroom and are envious of the modern bathroom looks of your friends, it may be time for an update. You do not need to spend a huge amount of money, and you can start by choosing a great-looking towel stand or a soft bathroom rug. The next item on your "budget update" list may be your sink. You can choose from a great variety of affordable, yet stylish sinks available on the market.
[Image source www.gmskitchensandbathrooms.co.uk]
A simple accessory that can quickly change the way a bathroom looks is a towel hanger and stand. Your old hanger may no longer have its shine. You can remedy this situation by purchasing a budget towel drying stand that supports your favorite soft towels and keeps them dry after usage. If you have decided to make more solid investments into updating your bathroom and you like exquisite, sophisticated look, you should consider marble. Although there are cheaper sink varieties available, marble sinks are highly valued for their aesthetic appearance and they are a sign that the owner of the bathroom possesses great artistic taste. You can find a sink to fit in any space, and they come in a number of eye catching designs.
Updating your bathroom does not have to cost you a fortune if you choose cost-effective bathroom accessories and benefit from the available deals or discounts. It just takes a little patience and taste, and you can restore its shine and attractiveness.
No doubt you've flipped through the pages of a home décor magazine or watched a home makeover program on television where room after room is artfully arranged and perfectly decorated. Throw pillows are placed just so, area rugs define rooms within rooms and colorful throws are arranged with flair to provide visual interest. Casual elegance has replaced traditional décor in many homes and the overall look is one of eclectic coordination instead of matching drapes and upholstery along with complete furniture suites. The challenge is how to pull it all together with style.
The key to modern home décor is personalization and authenticity – you should live with what you love and each piece should have a story or a reason for being a part of your home and your surroundings.  Perhaps you have an heirloom chair or crib that has been in your family for generations but it's not the sort of thing you would actually sit on or use for baby. The item can still be celebrated as a work of art and integrated into the decor in a number of ways. An heirloom crib can be filled with stuffed animals or dolls and displayed in the nursery or filled with blankets and quilts (starting from $24.99 at Bedbathandbeyond.com) and displayed in a bedroom while a vintage chair can be updated with modern slipcovers or used to hold a beautiful plant or floral arrangement or a stack of art book or family albums.
[Image source: cdn.home-designing.com]
Color is one way to tie a room together even if each item in the room seems entirely random. By painting or choosing items all in the same color you effectively create a collection – the sun room takes on a new dimension when everything in it is yellow or orange. Yellow slipcovers or throws can help to integrate a dated couch or chair while a yellow rug and lamp shade can help to tie in the floor and walls or ceiling. When it comes to visually categorizing things color is a primary factor and can be a great way to pull together a coordinated decorator look.
Sometimes you just want to refresh the look of a room and try something new – this is when decorative pillows can add real pizzazz. Because a pillow is relatively small it can be highly detailed and made of a unique fabric resplendent with elaborate trims or ornamentation – think of it as jewelry for the home. Add just the right pillow to complete the look of a bedroom, family room, living room or den. A monogrammed pillow adds an extra touch of class.
The bathroom is an important room in any home – it's where we spend a lot of time preening and cleaning ourselves, it can even be when many of us come up with our best ideas or sing without any trepidation in the shower.
Which is why when we have any plumbing problems in this most integral of rooms it really throws a spanner in the works. It's often the toilet that's the problem, but equally as annoying is a blocked sink or bath that doesn't want to drain.
It's easy to fret about these bathroom plumbing problems but there's really no need, because they are often easily sorted and indeed avoided if you know just three simple tips.
[Image source bkc.name]
If your bathroom is experiencing any of these issues then the first thing you must do is sort these out either yourself (equipped with a plunger or drain cleaner) or call in a professional to do the job. But the best way to avoid blocked drains in the future is to abide by some easy preventative steps that any homeowner can follow.
First thing's first, make sure any products that should not be going down the toilet end up in a bin and not clogged in your drains. Facial tissues or wipes should not be flushed and it's the same for heavy-duty paper towels or sanitary products. It's easy to just chuck this stuff in the bowl and flush but if you want to keep your bathroom in good working order then bin it.
Secondly, simply use a stopper to block your plughole from any unwanted hair or dirt and you'll notice a difference straight away. Finally, clean your taps, showerhead and sinks regularly to avoid any build-up of minerals and your bathroom will be problem-free for some time to come.
Bedding is one of the few purchases you are guaranteed to use every day, and it can have a serious effect on your mood and comfort. It is worthwhile to invest in bedding you can enjoy looking at in the daytime and sleeping on at night. Whether you are shopping for comforter sets queen sized or crib bedding, you should consider the same factors, including material, weave and style.
The fabric is one of the most important factors to consider in bedding. If you prefer the feel of one material to another, then this can make a big difference in the quality of your sleep. The sheets' thread count determines some of its properties, including its softness, flexibility and durability. A moderate thread count, around 200-300 threads, combines comfort and affordability. A higher thread count, between 400-1000 threads, can increase the smoothness and softness of the fabric for a more luxurious texture, but it is likely to cost more. It is also very important to consider the type of fabric for crib sheet bedding; infants' skin is very sensitive, which makes it prone to allergic reactions or abrasions. The weave determines the texture and consistency of the material. Straight weaves lead to a smooth texture, but more elaborate ones, such as a sateen blend, can produce a glossier texture.
Another important consideration is the style. Yes, comfort is key, but the bed is always present during the day. Picking an unattractive comforter set style can create an eyesore in a room and even produce a negative emotional response to the sleep ritual. Finding a style that complements the decor of a room can make all the difference and give you a bedroom you can show off with pride.
The kitchen does not only function as a food preparation area but it is a place to dine and chat with family and visitors. As a multifunction room, the kitchen should be cleaned daily to assure that the food is free from bacterial contamination. Most people focus their kitchen improvement in the cabinet, tile flooring and counter-top not realizing that the kitchen table is also a favorite spot for microbial contamination.
[Image courtesy of freshhome/freshome.com]
If kitchen tables become dilapidated it is about time to replace them. When you buy a new kitchen table you have to start with your needs and style. Is your table used for other activities such as writing, handicrafts or playing cards? If the table is often used for these activities, then you need a table with extension.
Consider the size of your kitchen. Round table is ideal for small kitchen where you can sit and dine with intimacy. Square shaped tables are suitable for small group of visitors in a small space while rectangular is ideal for big area. Buy table with comfortable chairs to rest your back and legs.
Even with a limited budget, you can still upgrade your home's looks using window treatments and dressings. If you have old windows it would be a good idea to upgrade them with Cleveland Heights windows before adding curtains. Some homeowners are hesitant to look at those cheap kitchen curtains from their local shops in fear that it might still cost them an arm and leg despite the its "cheap" tag. We all know that nothing good comes in cheap nowadays so some also worry about the quality and material of any cheap home decorating items.
Carefully choosing styles and designs of kitchen curtains can lend an elegant touch to your windows. You'd feel really relieved that you found something that looks classy and expensive at very low prices. Check out curtain materials such as sheer net panel curtains which can either be floor length or simple hand on sills. A pop of color can make a major difference to your kitchen's monochrome.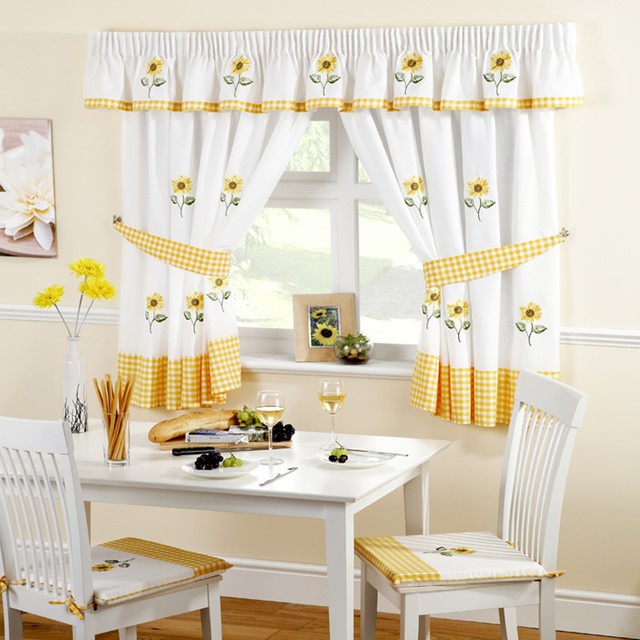 Take careful consideration of your kitchens' overall theme and the colors present around you. You may brighten up or tone down your kitchen's ambiance with the different colors and styles that you can find. Bright yellow and red hues will lighten up space and make it appear livelier and more spacious. Blue and green colors have a more soothing and calming effect when used as window treatments. They are more often used in bedroom but more formal kitchen and dining area may also take advantage of its formal air.
Kitchens can sometimes be the most neglected part of the home when it comes to interior decorating. Window treatments are hardly ever changed because of the pricey costs of good quality kitchen curtains. But with a little time and effort, you can find cheap yet good quality kitchen curtains which will not only upgrade your kitchen's ambiance but will also cheer up people coming into this part of the house. Start your search from your local shops and try to check out online shops on your free time. You're bound to find something that suits your needs and your budget within a few more clicks.
Each one of us loves an inviting and warm bedroom, a sanctuary which is simply away from the rest of the world. All bedrooms require one thing, adequate storage. In case you are planning about performing a bedroom decor, ensure that you have a sufficient shelf space, cupboard and drawer that can accommodate all of your belongings.
You can chose to decorate with just a simple elegance, although this elegance might be of a little high cost in case you don't become careful. It is important that you outline a budget to assist you in decorating and ensure you work within it at your best.
[Image source home-designing.com]
Instead of having the splendor being lost among the excess, you can opt to decorate with focal point that is very stunning within the bedroom. Select a masterpiece when it comes to those dramatic curtains, bedding ensemble or eye-popping tools rather than going all out with whatever is in the room
To this- Fabulous pieces of artwork can be a great way to personalize the room and set the tone. For example, adding a Bob Ross painting featuring a nature scene could instantly create a relaxing, serene vibe. Adding decorative rugs, gorgeous pillows, figurines and candles can also make perfect touches.
The living room is the center of your home that needs to be cleaned regularly. Like your home facade, it should have a welcoming aura to entertain your visitors. The moment they enter your household, the living room should create an inviting ambiance to impress your guests.
Applying a couple of living room ideas does not require you to hire an interior designer because a little imagination can do a lot of wonder to this area. The room can be a formal or informal place for entertainment, family gathering and receiving guests.
[Image source mixhealth.com]
If you want it to look informal, invest in built-in cabinets, console table, study desk and entertainment pieces. A formal living room is filled with art Deco, lighting fixtures, wall adornment, knick knacks, art pieces and coffee table books to be feasted by your guests' eyes.
Your guest would love to read books and magazines, so be proud to show off your collections. A fireplace mantel, a monochromatic area rug and a contemporary chandelier will make your living room look elegant and sophisticated.
 The way your bedroom wall looks like can affect your mood. Entering a dark and drab room can be disturbing as it conjures an eerie atmosphere. It is time to give your bedroom a new character by decorating its walls.
Before you begin the project, measure the height of the wall side to side and ceiling to floor. Have a mental picture of what your bedroom walls will look like. Try putting on a wall carpet, a picture frame or posting some memorabilia of your trips. Adorn the walls with post-its, postcards, caps or posters.
[Image source avanesova.com]
Today, there are a thousand ways of decorating the bedroom wall. The most popular decorating ideas for the walls are wall decals and stickers. These decals are easy to paste and remove if you change the theme. You can maximize your bedroom wall by posting life-size decals of your favorite celebrity or from your mobile uploads.
The wall posters are practical as they are affordable for anyone and easy to maintain. Seeing your bedroom with unique decors will help lull you to sleep and recharge your body after a tiring day.